Real estate agents in Spain since 2000
Our Team
We are a team sharing the same mission: to work with dynamism, professionalism and ethics to reach our customers' satisfaction by providing them with our experience and expertise.
The business was founded in 2002. Our offices are located in La Torre de La Horadada (province of Alicante) and in Murcia, Spain.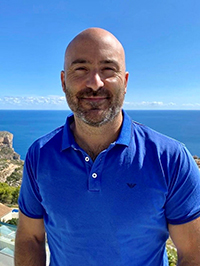 Franck Jeannoutot
Franck Jeannoutot is the Director and founder of Palmera Blue Real Estate Investment. Franck has over 18 years' experience in real estate, providing guidance and expertise to buyers of different nationalities in several countries.
He began his career in Spain where he founded his first property business in 2002, selling real estate to British investors, up until the Spanish property bubble was about to explode.
He then spent a year in the UK to expand his property investment education, sourcing overseas deals (in Morocco, USA, Spain) for British investment companies.
In 2008, he moved back to France and worked as Sales Director for a Property Developer in the Alps, selling leaseback schemes to investors.
In 2009, he opened a real estate franchise agency near the Swiss border (part of Guy Hoquet L'Immobilier, one of the largest networks in France). For six years, he successfully managed the business until he decided to sell it, in order to concentrate his efforts on the newly recovered Spanish property market with his new venture, Palmera Blue Real Estate Investment.
Franck holds an MBA from the International University of Geneva. He is fluent in French, English and Spanish.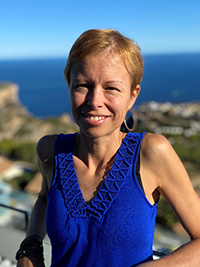 Celine Jeannoutot
Celine Jeannoutot leads the holiday rental property management services at Palmera Blue.
With 10 years of experience in client-facing roles in mobility services, and 6 years in luxury hotel marketing, Celine combines the best customer service with strong operations management to ensure that homeowners and guests have a first-class experience.
A French-native speaker who has worked in Switzerland, Spain, and the UK, Celine speaks fluent English and Spanish. She holds a business administration degree from the University of Birmingham.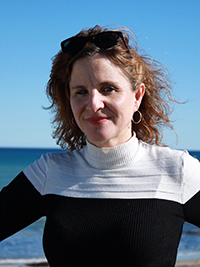 Montse Gómez Ferreres
Montse Gomez Ferreres is the Director of the International Law Department of Palmera Blue in the Costa Calida and Costa Blanca in Spain.
She is specialized in giving legal advice to foreign clients buying properties in Spain, and with any other legal issues (wills, inheritances, rental contracts, debt recovery procedures, legal enforcements and international contracts for companies).
She graduated as a lawyer by the University of Murcia and completed the Master of Law. She has been listed in the British Consulate in Alicante and the Norwegian Embassy in Madrid as "recommended English-speaking lawyer".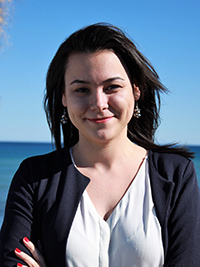 Natalia Kirichenko
Natalia Kirichenko is a bilingual lawyer in Spanish and Russian, and she is part of the Legal Department of Palmera Blue. She is specialized in offering Russian-speaking clients advice and legal assistance in purchase-sales property in Spain, as well as in legal advice in the field of Private International Law and Civil Law (inheritance, debt claim, contract review, companies incorporation, among others).
Natalia graduated in Law and Business Administration and Management by the University of Murcia. She has completed the Master of Law at the School of Legal Practice of Murcia.
She has been listed in the Russian Embassy in Spain as Russian-speaking lawyer.
Наталья Кириченко окончила факультет юриспруденции, бизнеса и менеджмента в испанском Университете Мурсии (Universidad de Murcia), получила степень магистра права в Школе юридической практики Мурсии (Escuela de Práctica Jurídica de Murcia). Владеет испанским и русским языками.
Входит в состав юридического отдела Palmera Blue как практикующий адвокат специалист по сопровождению сделок с недвижимостью в Испании, а также в области Международного частного права и Гражданского права (наследование, взыскание долгов, составление и рассмотрение контрактов, регистрации компаний, среди прочих).
Включена в список русскоязычных адвокатов в Испании подготовленный Посольством России в Мадриде и Генконсульством России в Барселоне.
Expertise
Why choose Palmera Blue Real Estate Investment?
Palmera Blue is an independent Spanish Property Consultancy serving investors. Whatever you need, we will find it! We source properties all along the Spanish coast.
We provide the best support all along, with a one-stop shop for sales, legal, administrative procedures, property management, holiday rentals management, furnishing/decoration services.
There are so many properties out there, how do you know which one to pick?
Our added value is to bring you our market expertise, advise you on the location, the town or even the street where you should (or should not) buy.
Franck Jeannoutot knows the Spanish coast very well. He has extensive experience of property prices in Spain from 2000 until today.
With his expertise, he selects the best opportunities focusing on the location, the market prices, the potential of property capital growth, the attractiveness for holiday rental and the resale strategy.
Talk to us about your project !